| Source : -
Institut Teknologi Sepuluh Nopember (ITS), was invited to be co-hosts of Global Project-based Learning (gPBL) with a Shibaura Institute of Technology (SIT), Japan and IHI Corporation, a comprehensive heavy-industry manufacturer having history extends back to the establishment of Japan's first modern shipbuilding facility in 1853, Ishikawajima Shipyard. The coproduction was as an effort in maintaining the quality of global education, and to strengthen the partnership of consortium-based university-industry linkage.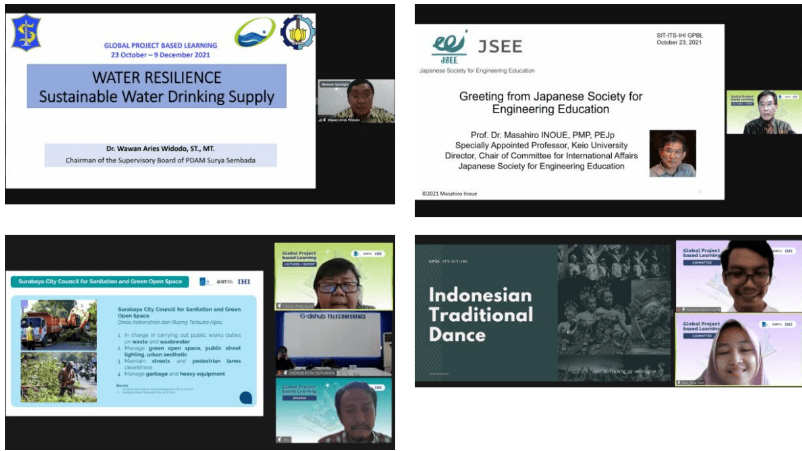 Discussing four main topics based on the concrete issues encountered by the Surabaya Municipality, the hosts also invited Surabaya City Council for Public Works, Sanitation and Green Open Space, and Transportation to deliver lectures on the problems and the current innovations, including Low Carbon Society – Dependency on Grid Electricity, Smart Urban Mobility – Online Transportation System, Infrastructure and City Planning – Infrastructure for People with Disability, and Disaster Prevention – Flood Threats and Water Resilience.
The program was successfully carried out every Saturday from 23 October-27 November 2021, offering including two lecture meetings, three discussion meetings, and one final presentation meeting.
A total of 19 faculty members and representatives from ITS, SIT, and IHI collaborated to enable and facilitate group discussions every week. Each topic was assisted by one teaching assistant from ITS.
Following the lectures, the participants worked in a group of 5 to 6 to review and determine the problems that they will identify based on the Group Discussion Canvas. The group discussion lasted for three weeks where each session was attended by the faculty members or representatives from ITS, SIT, and IHI to offer advice and direction if necessary. By the end of the discussion, each group delivered its innovative and creative design solution to the project reviewers.
GPbL ITS-SIT-IHI 2021 brought together 24 students from Institut Teknologi Sepuluh Nopember (ITS) Surabaya, 11 students from Shibaura Institute of Technology (SIT) Japan, and 6 students from Tsuda University Japan. Most of the participants were undergraduate students.
The selected best groups was granted an opportunity to present at the GTI Symposium on 9 December 2021.