The Center for Regional Potential Studies and Community Empowerment (PDPM) Directorate of Research and Community Service (DRPM) Sepuluh Nopember Institute of Technology (ITS) Surabaya in collaboration with the Tulungagung Regency Communication and Information Office (Kominfo) compiled the Community Development Index (IPMas) of Tulungagung Regency. The purpose of preparing this IPMas is to measure and determine the results of the Community Development Index which is a composite indicator of the mutual cooperation index, tolerance index, and sense of security index in Tulungagung Regency in 2020. This activity includes preparation, data collection (primary and secondary), processing and data analysis and preparation of reports and presentations.
This Tulungagung Regency IPMas 2020 preparation activity involved ITS lecturers and students, lecturers and students at the University of Bhineka PGRI Tulungagung. This activity started from October 2020 until early December 2020. Primary data collection was carried out in 122 sub-districts from 19 sub-districts in Tulungagung Regency. Primary data collection, validation and entry were carried out by ITS and UBP students. The sampling design, analysis and report were carried out by ITS lecturers. The dimensions measured in this IPMas are mutual cooperation, tolerance and a sense of security.
On October 22, 2020, a surveyor briefing was held at the Tulungagung Kominfo Service Office. The purpose of the briefing is to provide an overview of the preparation of IPMas in Tulungagung Regency and to equate the perceptions of experts with surveyors. The briefing was attended by the Deputy Head of PDPM Dr. Soedarso, Mr. Haryono, Head of Statistics of the Tulungagung Kominfo Service, ITS experts, support teams and IPMas surveyors.
In his speech, Mr. Haryono expressed his gratitude to the surveyors, validators and IPMas entry officers who were willing to be part of the Tulungagung IPMas preparation activities. Indirectly, surveyors have contributed to the development of Tulungagung Regency. Moreover, most of them are students from Tulungagung. Pak Haryono advised the surveyors to carry out the survey with full responsibility and joy. Because the survey locations are in almost all sub-districts.
Dr. Soedarso in his speech said that surveyors should carry out surveys with full responsibility. If there are challenges and obstacles in the field, they can convey them to the survey coordinator to find a solution. Due to the COVID-19 pandemic, surveyors must comply with health protocols. Surveyors must wear masks, bring spare masks and hand sanitizer. Hopefully this IPMas survey can run smoothly and be completed on time. ITS expert Pak Imam Safawi provided general explanation material for the preparation of the 2020 Tulungagung Regency IPMas, discussion of questionnaires and schedule of activities.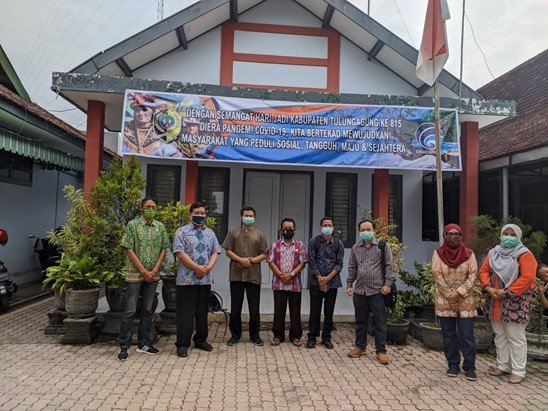 The Head of the Tulungagung Communication and Informatics Service, Drs. Tranggono Dibjoharsono, MM. (2 from left) and Deputy Head of PDPM Dr. Soedarso (3 from right) took a photo with the ITS and UBP team