Oleh : itsmis |
| Source : www.its.ac.id
ITS Campus, ITS News – Indonesia is one of the few countries with a high level of biodiversity. Seeing this opportunity, three students of the Department of Statistics, Institut Teknologi Sepuluh Nopember (ITS) succeeded in creating an innovation called SI TEA, a tea product mixed with various spices.
They are Dede Yusuf P Kuntaritas, Akhmad Miftahul Ilmi, and Aulia Kharis Rakhmasari who managed to combine tea with various spices that has more properties than the regular tea. Besides warming the body, Dede said that SI TEA can also increase immunity and reduce cholesterol in the body.
The reason for those properties, according to Dede, is because there are four types of spices,  cinnamon, red ginger, lemongrass, and kaffir lime leaves, which are also added with a certain ratio to the team's tea recipe which creates very fragrant aroma to the tea when it starts brewing.
That class of 2019 student stated that the potential market for SI TEA in Indonesia is very large because Indonesia is one of the countries with the largest number of tea consumers in the world. "The target consumers are mainly in cold areas like Malang," he said.
SI TEA will be sold at a price of around Rp14.000 – 50.000 per pouch with approximately 50 grams of tea. This price is much cheaper when compared to the premium tea with the price of Rp150.000 per pouch.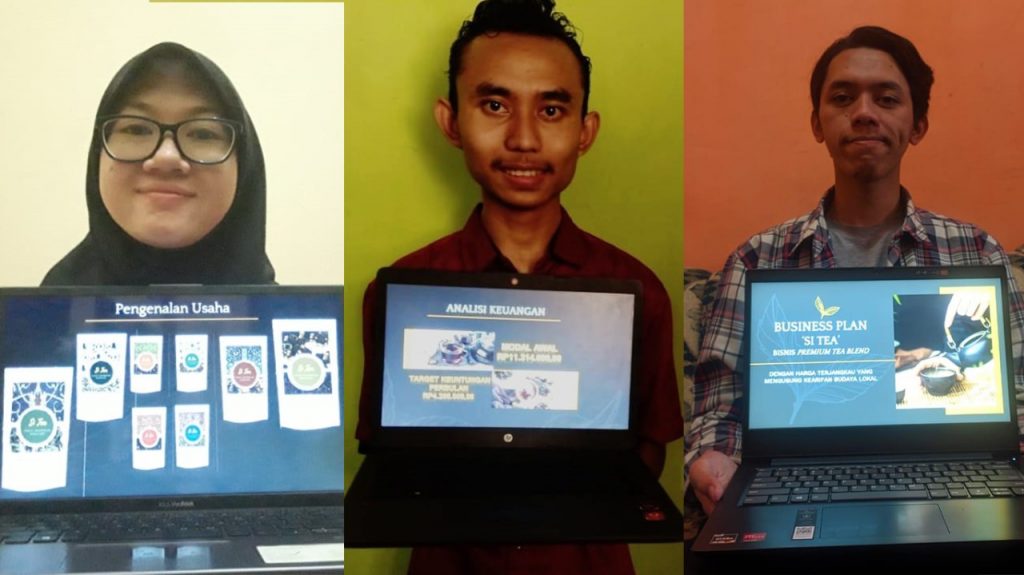 (from left) Aulia Kharis Rakhmasari, Dede Yusuf P Kuntaritas, and Akhmad Miftahul Ilmi who created the spiced tea product called SI TEAWith this price, Dede considered that the lower class people would also be able to buy the product. "Each SI TEA pouch can be used five to six cups of the regular tea," said the student from Atambua, East Nusa Tenggara (NTT).
To attract more customers, SI TEA comes with Indonesian batik patterned packaging. Indirectly, this can introduce Indonesian local cultures to the wider community.
In the future, Dede hopes to develop even bigger businesses. Especially in raising funds to realize this big plan. From this idea, SI TEA has won the first place award and the favorite video award in the GEMNAS Batch 3 Business Competition, Universitas Negeri Padang 2020, at the end of last October. (sof/nadh/ITS Public Relations)