Oleh : itsnews |
| Source : www.its.ac.id
ITS Campus, ITS News – Celebrate the 60th Lustrum XII or Dies Natalis parade of ITS, ITS presents an innovative competition titled ITS 60 Virtual Race that virtually races running and cycling. A total of 1,100 participants who participated online were officially released through a flag-off by Vice Rector I ITS Prof Dr Ir Adi Soeprijanto MT from the front of ITS Rector building, Sunday (20/9) morning.
This is the first time for ITS to hold a virtual race competition, due to the current Covid-19 pandemic. For some participants, it's also a new experience to race against each other from home and their respective home locations.
In his speech online before the flag-off, ITS Rector Prof. Dr. Ir Mochamad Ashari MEng said that this grand event is a continuation of the regular agenda of ITS Dies Natalis every year, "Because it is still in a new normal atmosphere, then this year's running and cycling activities are held virtually," said the rector who is familiarly called Ashari.
Since registration opened from September 10th to September 20th, 1,100 participants have joined the competition. With details of 605 runners and 495 cyclists. Conducted independently online, ITS 60 Virtual Race can be followed by the entire community, not just its academic environment. "This activity was also attended by participants from abroad virtually from the United States, UK, Australia, Korea, Japan, and other countries," said Ashari.
Broadly enough, ITS 60 Virtual Race will be divided into two categories. That is running with a distance of 60 kilometers, and cycling with a distance of 600 kilometers which is carried out in a span of six weeks starting simultaneously from September 20 to November 1, 2020.
Chief Executive of Lustrum XII ITS, Dr Eng Trika Pitana ST MSc said the selection of distance and duration was not without reason. But the use of the number six means as the 60th anniversary of ITS. "To encourage this activity, we also provide a variety of interesting door prizes and a total prize worth Rp 30 million," he added.
Trika continued, will be taken by each of the three winners from each category for the participants who travel the most distance. "A distance of 60 kilometers for runners and 600 kilometers for cyclists is the minimum distance to claim the termination trophy. Participants can run and cycle further than we set," explained the lecturer of the Department of Marine Engineering.
For technical implementation themselves, participants can run or cycle from their respective cities and regions of origin by using the STRAVA app as their mileage tracker. "Not forgetting, participants must also implement the applicable health protocols," Trika said.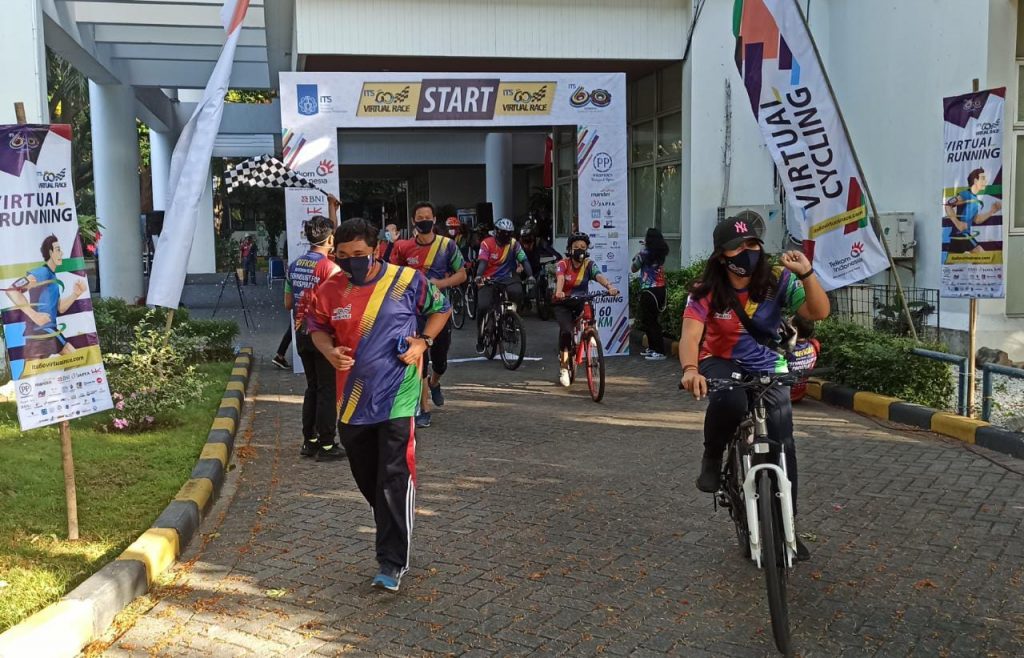 Representatives of newly released runners and cyclists are officially set to start competing in ITS 60 Virtual RaceThrough this activity, ITS hopes to net 3,000 fans of running and cycling in Indonesia and other countries to move healthy with ITS. For people who want to participate, registration of ITS 60 Virtual Race will still be open until September 30, 2020. "To register, prospective participants can access the www.its60virtualrace.com," concluded the man from Blora. (rys/Anjani/ITS PUBLIC RELATION OFFICER)