Oleh : itsnews |
| Source : ITS Online
ITS Campus, ITS News – PT Institut Teknologi Sepuluh Nopember (ITS) Tekno Science which was founded in mid-2017 last year, has demonstrated a very positive and significant development. In 2019, ITS Tekno Science's revenue increased by 138 percent to 128 billion rupiahs with a cooperation contract of up to 275 contracts.
Director of PT ITS Tekno Sains, Dr. Ir I Ketut Gunarta delivered since it was first established in 2017, PT ITS Tekno Sains has successfully posted revenues of 15 billion rupiahs. The following year, in 2018, it rose 251 percent to 54 billion rupiahs, and in 2019 it reached 138 percent to 128 billion rupiahs.
"PT ITS Tekno Sains successfully earn the revenues far beyond the specified target. The average of ITS owned companies successfully booked 250 percent of the plan's revenue, "he explained.
The man who is familiarly called Gunarta continues, in terms of the number of cooperation contracts, PT ITS Tekno Sains also experienced significant growth. Of only 21 contracts of cooperation in 2017, an increase of 700 percent in 2018 to 153 contracts. "Then in 2019 climbed about 200 percent to 275 work contracts," he said.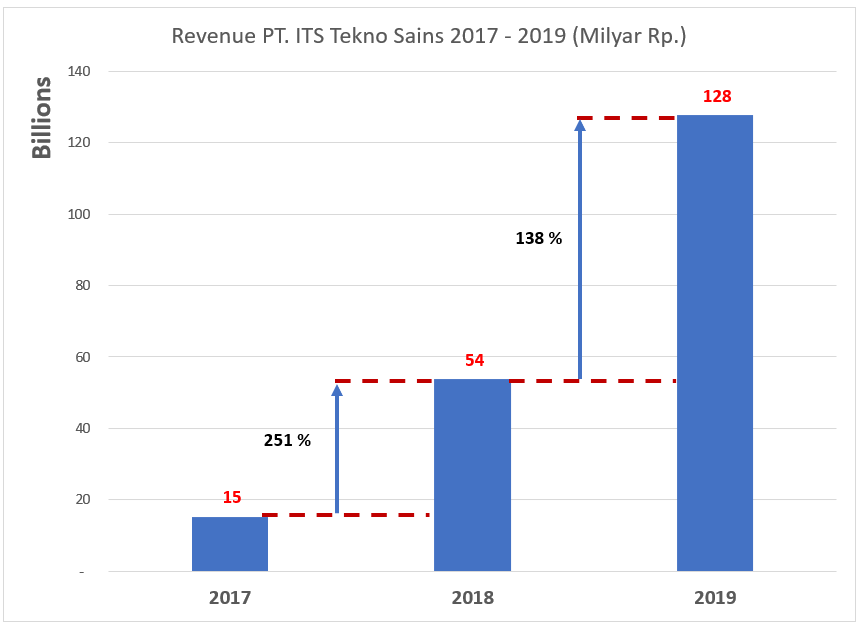 PT ITS Tekno Sains revenue growth from 2017 to 2019.
Furthermore, Gunarta explained that the shareholders of PT ITS Tekno Science are two parties, namely ITS as a majority shareholder of 99 percent and 1 percent of ITS employees cooperative. "While the total fund obtained by shareholders in 2017 amounted to 1.2 billion rupiahs, 4.1 billion rupiahs in 2018, and in 2019 it grew until 6.6 billion rupiahs," he said.
The man who is also active as a business valuation consultant said, all shareholders appreciate the progress and performance that has been demonstrated by PT ITS Tekno Sains in 2019. "For three years, they have also received and ratified the financial responsibility report. With this, PT ITS Tekno Sains has qualified into a public company, "he explained.
This ITS lecturer also said that the development of the stock is achieved by several strategies, ranging from accumulating productive assets to establishing strong cooperation with ITS. "The company also began to develop the business of providing technology products and solutions, and other repeated income," he said.
The purpose of the establishment of PT ITS Tekno Sains itself is to support the achievement of ITS vision and mission as the main shareholder. "In the future, the benefits of this stock will be used to increase assets, financial contributions in research activities and community service, and facilitate the downstream research results of ITS Academica," said Gunarta.
Gunarta hopes that PT ITS Tekno Sains can be consistent with the vision, mission, and targets that have been designed. "The company culture that we have short with PINTER which is Professional, Integrity, Team Work, Excellent and Respect, should be a guideline in thinking and action, to contribute for ITS, nation, and country," he concluded. (sin/id/rev)