Oleh : adminits |
| Source : www.its.ac.id
ITS Rector, Prof Dr. Ir Mochamad Ashari MEng, appeared as the keynote speaker in Coordination Meeting and Technical Guidance for strengthening the JIGN by the Geospatial Information Agency (BIG)
ITS Campus, ITS News – Institut Teknologi Sepuluh Nopember (ITS) is ready to help develop the National Geospatial Information Network (JIGN) through the role of its entire academicians. It was said by the Rector of ITS, Prof Dr. Ir Mochamad Ashari MEng, in the Coordination Meeting (RAKOR) and Technical Guidance (Bimtek) for strengthening the JIGN at Hotel Santika Premier, Surabaya, Wednesday (7/8).
According to the rector who is usually called Ashari, ITS has several roles in the development of JIGN. Ashari said that ITS has experts from the lecturers in the Department of Geomatics Engineering and Departement of Geophysical Engineering who are also engaged in the Center for Development of ITS Spatial Data Infrastructure. "This development center is part of the Geospatial Information Agency (BIG) who held this event," explained the ITS Electrical Engineering professor.
Ashari explained, currently, the East Java Provincial Government requires a large amount of geospatial network node data. Currently, most of the data has been collected by BIG. However, according to Ashari, the data from BIG involving the role of 20 universities throughout Indonesia still needs to be aligned to be analyzed and used for the common interest.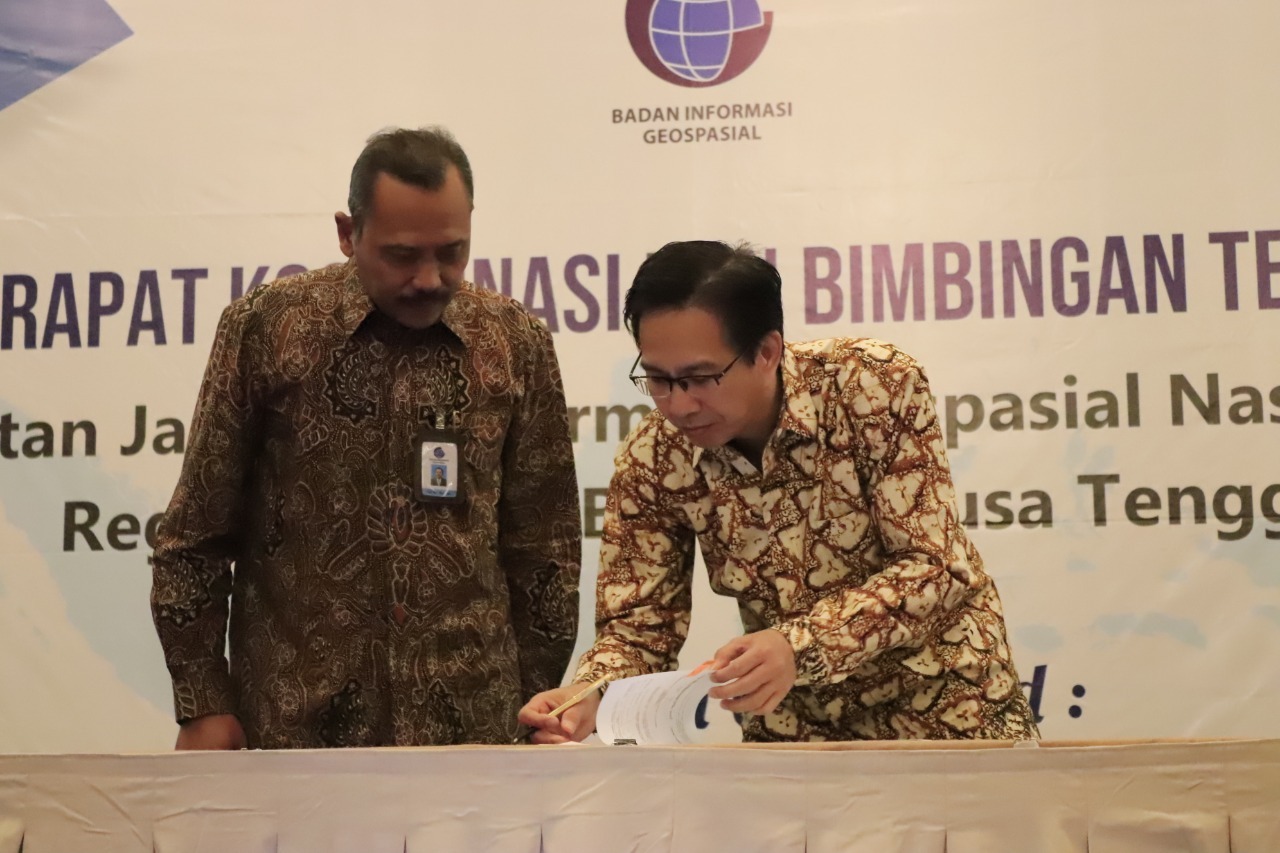 Head of the BIG Finance Bureau, Ir Ali Nor Hidayat (left), with ITS Rector, Prof. Mochamad Ashari, signed the handover grant document
Shortly, Ashari admitted that there was still a lot of work to be done. This geospatial data center needs to coordinate with the Indonesian Ministry of Communication and Informatics (KEMENKOMINFO) as the person in charge of data infrastructure, and BIG as the data owner. In the end, the data will be used by many parties. "These friends (ITS lecturers, Red) who manage (the data), so we still have a lot of homework," Ashari said with a laugh.
Meanwhile, according to one of the lecturers who are also geospatial experts from ITS Geomatics Engineering, Eko Yuli Handoko ST MT Ph.D., said currently there are some obstacles related to the number of human resources (SDM). According to Eko, there are only a limited number of experts who understand and human resources are still not fully supported. "Of course, there will be students contribution, especially those who are trusted by the lecturers involved," he said enthusiastically.
Chairman of the ITS Center for Earth Studies, Disasters and Climate Change (PSKBPI), Lalu M Jaelani ST MSc Ph.D., revealed ITS still needs additional qualified human resources. Data infrastructure is considered is still easy to pursue, but the human resources also still need more time to be trained first as best as possible. "Although currently some of ITS alumni have been targeted by several Regional Development Planning and Research Agencies (BAPEDDA) in Indonesia," he admitted.
In this event, BIG and ITS also had the opportunity to strengthen the cooperative relationship between them. This time, ITS received another grant from BIG in the form of geospatial competency testing equipment. Ashari said the total since 2011, BIG had given a grant of approximately 1 billion rupiahs to ITS. Among them are some server tools, eco-sounder, and other data recording and supporting tools, including those that can be operated under the sea. (dik/gayatri/ITS Public Relation)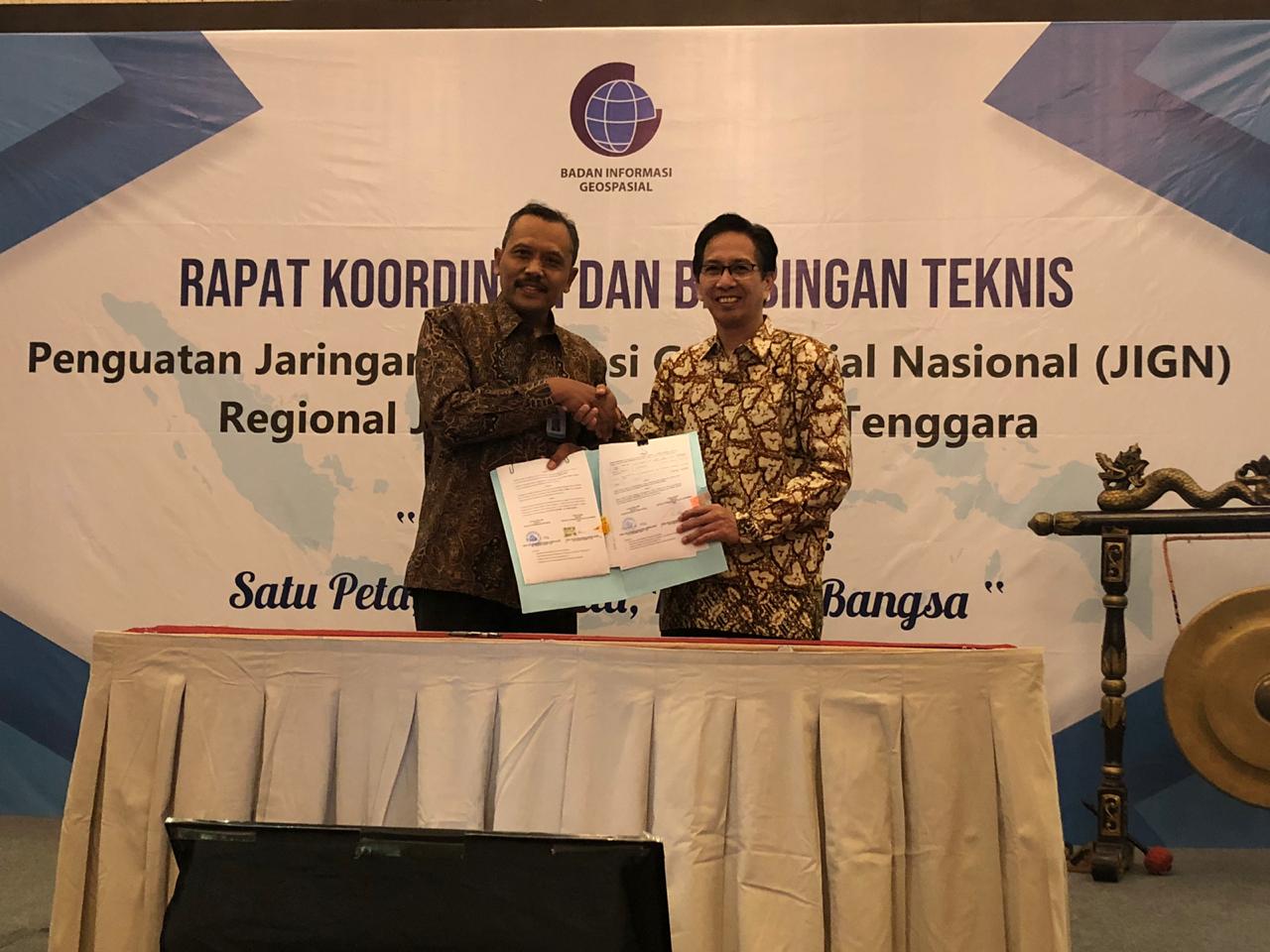 Head of BIG Financial Bureau, Ir Ali Nor Hidayat (left), with ITS Rector, Prof. Mochamad Ashari, showed the handover grant document